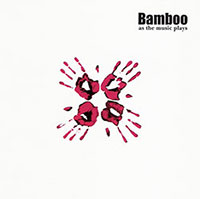 Listening to this CD, I can't help but recall the old Rivermaya days—a unique blend of vocal talents. The Bamboo Mañalac–Rico Blanco sound was simply unrivalled during the mid–nineties, when the Filipino band scene was very much alive and kicking.
Fast forward to 2004 and we have Bamboo — The Band. After quitting Rivermaya and leaving for the US several years ago, Bamboo Mañalac has returned to Manila and formed his own band, aptly named Bamboo. Joined by former Rivermaya bassist Nathan Azarcon, with Ira Cruz and Vic Mercado of Passage, they have released their first album As The Music Plays, with the current radio hit Noypi as the carrier single.
Every song highlights their music's main selling point—Bamboo's wonderful voice. Personally, they sound much "lighter" compared to Rivermaya (who else should I compare them to?); though I notice that some of their songs, especially those written in Filipino, has some of the Rico Blanco style of songwriting—surely a strong influence to Mañalac's music.
Upon getting this CD and listening to it for a few days, my initial impression was that there wasn't anything too special about their music. Not enough of the wow–factor you get listening to the Eraserhead's Fruitcake or Cutterpillow, yet playing the songs more in Winamp (yes, I was able to rip the copy–protected CD) makes you develop a liking for their music, growing everyday. I don't know, it must be that voice.
The band itself sounds nice and clean, the guitarwork sweet and simple. Once again, we get to enjoy Azarcon's playful (but not funky playful) bass lines, something I noticed a lot in older Rivermaya records.
My picks: Masaya, War Of Hearts And Minds, These Days, Hudas and Noypi.
Ten songs for a CD priced less than 300 pesos. Worth every depreciating peso. If you're a Rivermaya fan missing Bamboo's voice, this is your fix. For casual listeners, this is certainly worth a try.
Four out of five stars on my book.
The original version of this review was published on rebelpixel productions.