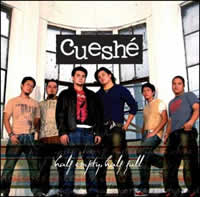 It has been a few months since the song "Stay" made it to the Manila airwaves, yet it continues to gain playtime and online interest. Cueshe, the rock band from Cebu, has indeed arrived to share its music. The rapid growth of OPM the past year has given us great acts like Hale and Bamboo, and now Cueshe.

"Half Empty, Half Full" is a good collection of songs from a young rock band. The songwriting is plain, simply straightforward, yet you know it's proudly their own. Most of their songs speak of love and affection, and everything that comes with it. Of the twelve tracks on the CD, only one is written in Tagalog. "Ulan" is the band's take on a Tagalog song, and though it sounds good, the lyrics sound seem unnatural, like speaking Tagalog when you've grown accustomed to Cebuano, which is most likely the case. On the contrary, the English tracks are very well–written.
"Stay" and "Sorry" are definite LSS rock tracks, and comparable to a slightly lesser extent are "Hump Ahead" and "24 Hours." The other cuts from the CD are good, though these four are more noticeable for their music and lyrics.
Like I always do, I can't help but contrast and compare with other artists. Some hints of Green Day, Creed and Bush can be inferred, but I don't agree with some claims that they are Silverchair copycats. This band sings better than any of those bands mentioned anyway. Locally, it isn't easy to find a good comparison. Maybe a rockier early–days Introvoys? Remember "Calling All Nations?" But I digress. They do sing realms of emotions, but Cueshe does it in a definitely more rocking way.
Singing is one of Cueshe's selling point. Jay Justiniani's and Ruben Caballero's vocals work stand out among current OPM bands, just as the band's guitarists, with solos reminiscent of former Mr. Big axeman Paul Gilbert.
The question we've all been waiting for — is the CD worth buying? A big yes and two thumbs up. A plain yet enjoyable rockin' album, 4 out of 5 in my book.